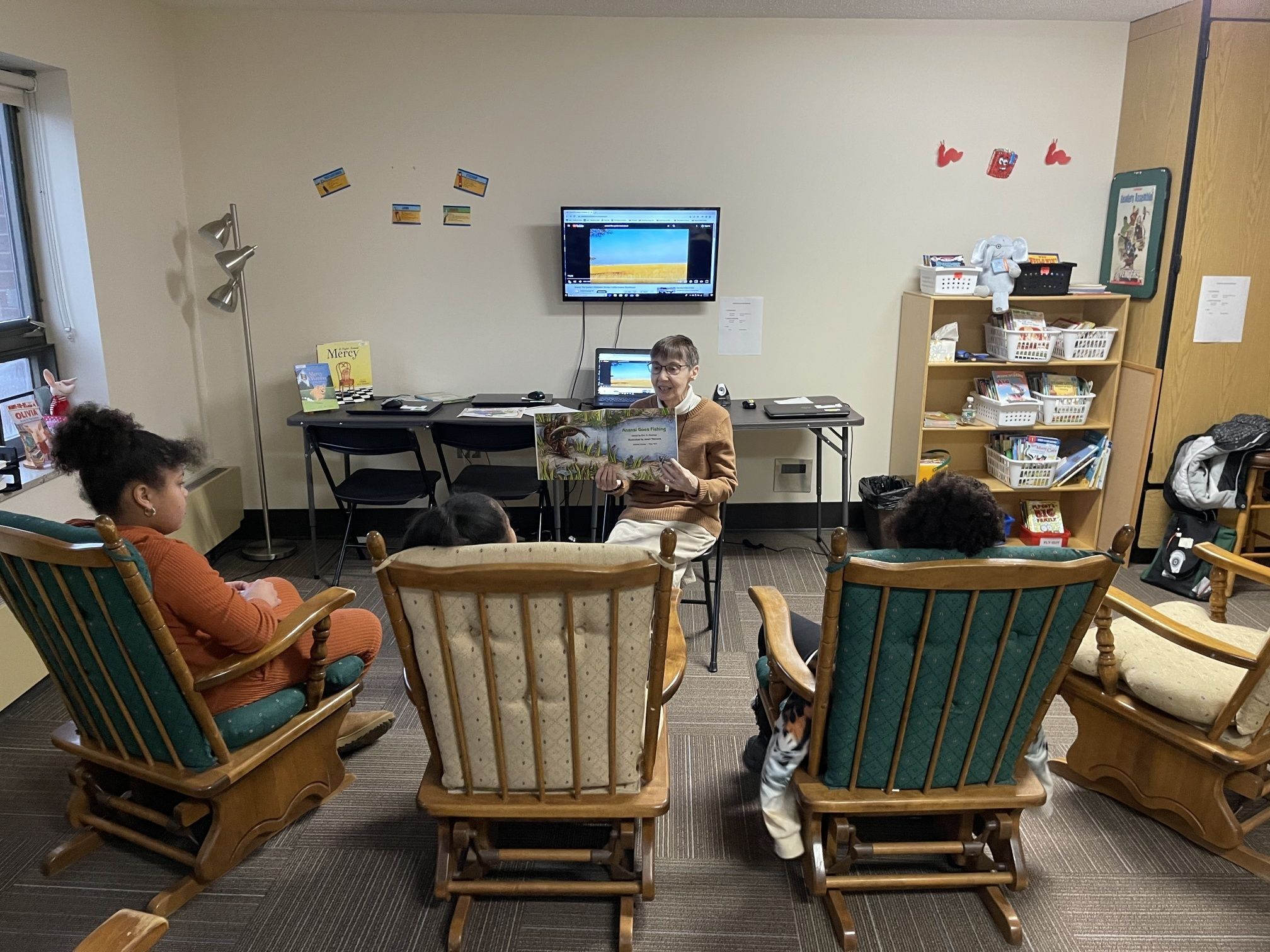 Meet Sister Mary Anna Falbo, volunteer librarian for Villa Maria Youth Program
Sister Mary Anna is originally from central New York state, where her mother was a public librarian in a small town with meager funds for library staffing. So, in lieu of salary, her family lived in the public library with their home space on one half of the building and the library in the other half!
To say that Sister Mary Anna grew up surrounded by books and a love for reading is truly an understatement. Today, she shares her passion for reading with the Villa Maria Youth Program in Buffalo, New York. Our interview is condensed and edited for length.
What is your role with Villa Maria Youth Program?
I'm the program librarian and storyteller. This year, I focus my work with grade 2 and 3, but in previous years, I have worked with all grades. I can concentrate on stories for the second and third grade levels and interests, as they are at a similar reading level and have similar interests.
I'm also tasked with getting appropriate books to have a wide variety of books for the kids the in various levels and interests.
Why would I volunteer if I didn't really love it? I'm always kind of wound up and full of energy when I come home from the program. I am just full of energy from their energy!
What is your professional background?
I am a professional librarian, retired. I had trained to be a school librarian but became a reference librarian at Villa Maria College. As soon as I retired from the college, I came over here to the youth program. I love storytelling and working with young kids. Now I can discover the interests of the kids and encourage them at their level. I was a teacher before I was a librarian.
What does a typical afternoon with the after-school program look like?
The children come into the library in small groups – no more than 4 kids at a time – for 20 minutes at a time. When I'm with small groups, I can make sure they can all see the artwork in the book and make sure all the kids get a chance to engage. The bigger the group, the lower the opportunity for each child to be involved in the conversation.
When they come in, we talk about the vocabulary coming up in the story. I'll stop periodically to ask comprehension questions, ask them how they feel about the characters, etc. Then they choose a book from the library. The kids read the book they chose during library time during the classroom time in the program at return it at the end of the week.
What are ways you engage 2nd and 3rd graders to be excited about reading?
Most books are trying to teach something or introduce a concept. I asked Sr. Fredrica (the Director of Villa Maria Youth Program) if I could concentrate on FUN books – action, adventure, humor – to make the stories as fun and attractive as possible.
I want them to find the joy in picking up a physical book and find something fun or amazing and maybe they'll learn something, but let's make reading FUN. I think it's rubbing off. Mercy Watson To the Rescue is a great example – one student enjoyed this book so much that she asked her family to buy her the next book in the series!
Villa Maria Youth Program just received a big donation of books! Can you tell us more about that?
Oh! They look marvelous! There were 69 hardcover books donated by a family member of one of the Tops grocery store shooting victims in Buffalo*. They are anti-racism books, and wonderful African American stories – not just something teaching a lesson, but beautiful, joyful stories. The majority of the kids in our program are children of color, so we make sure that the books we select have main characters that are people of color. We include books with Caucasian characters and characters of other races, too, but we want to be sure the children see strong characters, funny characters with whom they can identify.
*Zeneta Everhart and her son Zaire donated sixty-nine hard covered books to the Villa Maria Youth Program. The books include Caldecott and Newberry Honor books and embrace traits that bring people together as well as learning how to love who you are. Zeneta and Zaire's book club includes a collection of books on racism which were donated after the mass shooting at a Tops Store in Buffalo, New York. Zaire was a survivor from the mass shooting and the book club began in thanksgiving for his life as his mother saw the need to expand knowledge on racism throughout the city.
What's something you enjoy doing outside of your work with the youth program?
I won't even mention "reading"! That's a lifelong interest. I grew up playing the flute, so I play during chapel regularly, which I enjoy very much. I'm also learning the keyboard. One of the sisters in the convent is a music teacher at the college and she is teaching me! I really like music a lot – singing, playing the flute, and listening to music – it fills my ay when I'm not filling my day with other things.
Thank you, Sister Mary Anna, for the vivacious JOY you bring to the afterschool program, and your passion for nurturing a love of reading and learning with the children you serve.