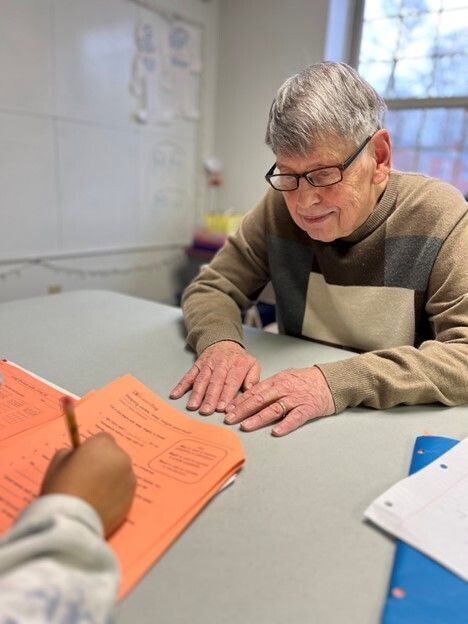 Meet a Hopebound Partner
Gary Springer, After-school Volunteer with Mooncrest Neighborhood Programs
Mooncrest Neighborhood Programs engages a team of dedicated volunteers to carry out their family-focused programs in Moon Township, PA. Mooncrest's after-school program provides a supportive environment and fun afternoon care for elementary through middle-school aged students who live in the Mooncrest neighborhood – an historically under-resourced community near Pittsburgh.
For Gary Springer, affectionately known around Mooncrest Neighborhood Programs as "Mr. Gary", after-school support goes beyond tutoring and skill building. When asked about the impact he sees on the students he works with, he says the biggest impact of his work with the after-school program may be around building trust. "I would like to think it's giving them something to trust. Trust seems to be a precious commodity for these kids, especially for those who have had some hardship along the way."
Gary has volunteered with the middle school students, primarily in the area of math support, since January of 2015. He was originally looking to get involved with the GED program, but then learned of a need for after-school volunteers. "I started with the 3rd graders and worked my way up!".
After-school volunteers help students complete homework and build the skills they need to be successful in school, and beyond. "Some of the kids have more trouble than others. For some, its reading skills, or learning English as a Second Language" says Gary. He notes that he believes the students make progress, and, over time, are more willing and able to seek help when they don't understand something. "Once we know what the problem is, we can better address it."
Mr. Springer's background is in Civil Engineering, and he has a master's degree in business. In his engineering career, he worked primarily as a project planner; working with the engineers to develop a schedule and communicate the progress of the project at hand. Those communication skills have been valuable in his volunteer role as well. Making a connection with the students, building trust, and maintaining it, all require honest and caring communication.
That honesty is what he considers the most fun part of volunteering in the after-school program. "The kids shoot pretty straight. If they have a question or a problem about what's going on, they are pretty direct at raising the issue. Some adults tend to talk around it, but the kids come straight at it. It's kind of refreshing."
Gary and his wife are also active with their church and its Food Pantry, investing in their community in multiple ways. Gary says his volunteer work has deepened his empathy for the people around him, recognizing that "I could easily be in the same situation, but for God's grace."
Giving back isn't just about what he puts in, or about the satisfaction of helping others. "What I find most appealing about it is that it's nice to be able to bless someone else, but I find I'm blessed myself, just by being involved."