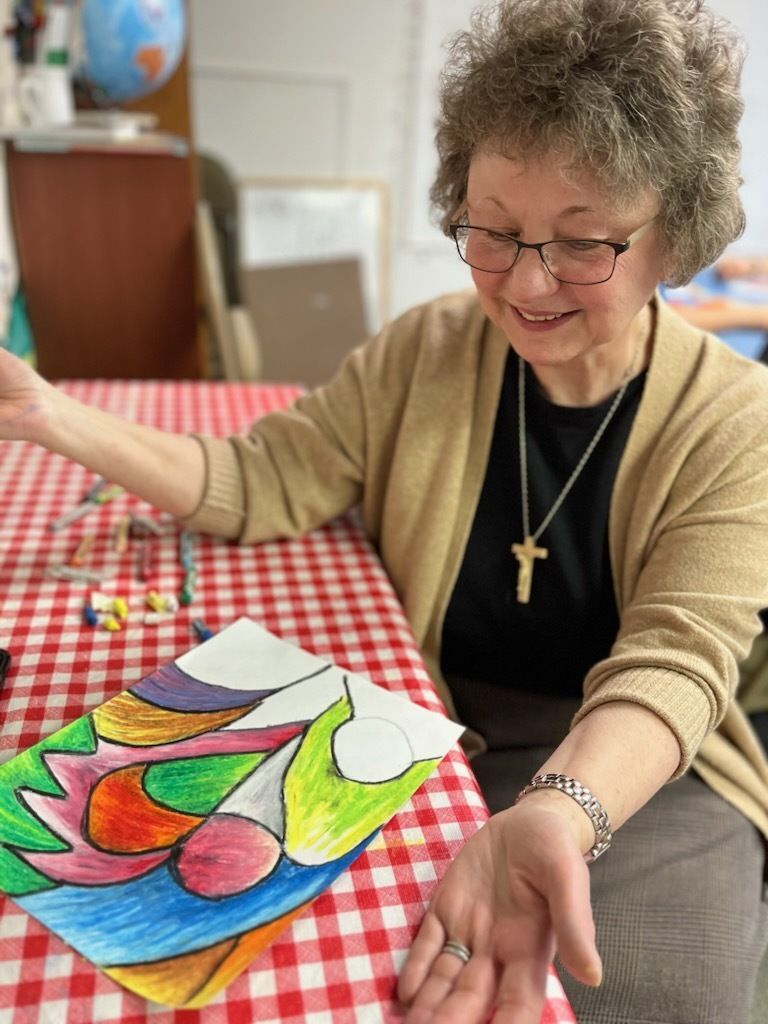 Hopebound Ministries is celebrating Catholic Sisters Week from March 8 - March 14, 2023!
Today we are featuring Sister Jeanine Morozowich, Director of Mission Integration at Mooncrest Neighborhood Programs in Moon Township, PA.
Sister Jeanine Morozowich has served as the Director of Mission Integration for Mooncrest Neighborhood Programs in Moon Township, PA, for a little over one year. While she enjoys working with the children at MNP - "You never know what they're going to say!" - she finds her work with the adults deeply rewarding.
Each week, Sister Jeanine engages with adults for Coffee and Conversation. It's a time of faith-sharing in a very conversational, relational format. The adults come with stories about what is happening in their lives, and then they play the card game Pokeno together. "We can go from crying to laughing" says Sister Jeanine. They have a pretty regular group of 10-12 adults from the Mooncrest neighborhood, and other leadership staff from Mooncrest sometimes join in the conversation and ask questions, which everyone really loves.
Sister Jeanine grew up Irwin, PA, which is just about 40 miles east of Pittsburgh. Since joining the Felician Sisters, she has been an elementary and high school teacher, a principal, and was the Director of Religious Education for 27 years in the Pittsburgh area. She also served as the Novice Director for eight years in Connecticut. She spent two summers in Ukraine teaching ESL (English as a Second Language) classes to university students sponsored by the Ukrainian Catholic University in Lviv, Ukraine.
While Mooncrest is her workplace, when you are a Catholic sister, even regular errands become a ministry. Sister Jeanine encounters many people from the community who recognize her and her vocation as she completes her weekly grocery shopping. "Inevitably I will see someone in the store or in the parking lot, and they will share with me what's going on in their life. Often, it is a health issue or a family relationship issue. I bring these concerns home and we [the Felician sisters] pray for them."
When she has some free time, Sister Jeanine enjoys cooking as a creative, relaxing outlet. You might also find her sewing, or spending time in nature. She has a passion for and continues to learn more about Franciscan spirituality.
In fact, that's something she wishes more people knew about life as a Felician Sister – that they are Franciscan! "We say we are Felician Sisters, and I wish people would know that we are Franciscan. As soon as you say "Franciscan", people get a picture in their mind. That's what attracted me to the Felicians is that they are Franciscan. We care for creation, and relationships are important to the sisters. It's about relationships."
Thank you, Sister Jeanine, for all you do for Mooncrest, and for sharing your story!