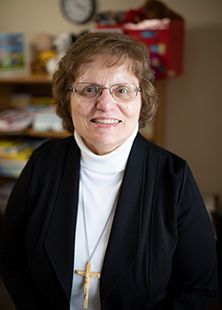 If you are in the hallway as children arrive at Villa Maria Youth Program, you'll find yourself in a gaggle of smiling students, all eager to say hello to Sister Fredrica as they head down the hall for an after-school snack and a warm welcome from the teachers and volunteers. As Director of the after-school program she co-founded nine years ago, Sister Fredrica has had the opportunity to see many students flourish as they find their confidence with the boost of extra support the program offers.
Sister Fredrica says that the most rewarding part of her work is the chance to make a difference in the children's lives, encouraging them as they learn. She and all the teachers and volunteers in the after-school program embody their mission statement: Building Confidence for Lifelong Learning.
Before founding the after-school program, Sister Fredrica was a teacher, a principal, and the Administrator for the Priests Residence. She grew up in Lackawanna, New York, and now lives and works in the Buffalo, New York. Villa Maria Youth Program is housed on the Villa Maria College campus and serves students in grades 2-4.
Sister Fredrica enjoys reading fiction and non-fiction and is always on the lookout for new and better ways to help children.
What's something Sister Fredrica wishes more people knew or understood about being a Felician Sister? She hopes that readers will "embrace the knowledge that we are truly Franciscan women of the Gospel."
Thank you, Sister Fredrica, for your vision and dedication to the students in your community, and for sharing your story with us!